Services
What can we do for you?
Our team of experienced website programmers can offer you a range of services which can help to bring your website or website designs to life. We have had many clients requesting a wide variety of services which we have always been able to deliver for them. Below are some examples of the range of services, alongside client feedback which we have received about the delivered product.
HTML Templates
We can turn your designs and artwork into fast, efficient, standards-compliant HTML, static HTML pages or cms template such as wordpress. We keep up-to-date with the latest good practice for HTML design, and search-engine friendly websites. For example:
---
Basic Website Admin
We can provide admin facilities to allow you or your clients to easily manage their own website. For example: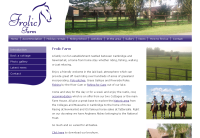 Site: Frolic Farm
Client: David Grant
We provided a simple backend to this website to allow the client to upload gallery images and manage the holiday booking dates.
---
Full Content Management Systems
We can provide custom content management systems, to allow complete control of structure, content, images and other assets for complex websites. For example:
Site: Hinchingbrooke Healthcare Trust
Client: Thump
Thump had a brief to provide a complex content-managed website on a budget. We helped them achieve that by providing a bespoke content management system to meet the requirements.
---
Third Party Integration
If you have third-party applications that you would like to integrate with a website, we can provide efficient cost-effective solutions. For example:
Site: Old English Inns
Client: Thump
For this project we needed to integrate the website booking pages with a remotely hosted third-party booking system using SOAP.
---
Data Integration
If you need tight integration between existing data systems and your website, we have developed a system specifically designed to solve this securely and efficiently. For example: